After officially becoming the new owner of the microblogging company, the SpaceX founder vows to make the application 'better' and hopes that his 'worst critics' remain on the platform.
AceShowbiz –Elon Musk officially owns Twitter now. The tech magnate has bought the microblogging company for $44 billion after the board accepted his bid on Monday, April 25. Under the terms of the deal, shareholders will receive $54.20 in cash for each share of Twitter stock they own.
Following the acquisition, Elon released a statement urging his "worst critics" to stay on the platform. "I hope that even my worst critics remain on Twitter, because that is what free speech means," he tweeted.
The Tesla owner further endorsed free speech as saying in a statement, "Free speech is the bedrock of a functioning democracy, and Twitter is the digital town square where matters vital to the future of humanity are debated."
He also spoke of his goal to make Twitter "better." He vowed, "I also want to make Twitter better than ever by enhancing the product with new features, making the algorithms open source to increase trust, defeating the spam bots, and authenticating all humans. Twitter has tremendous potential – I look forward to working with the company and the community of users to unlock it."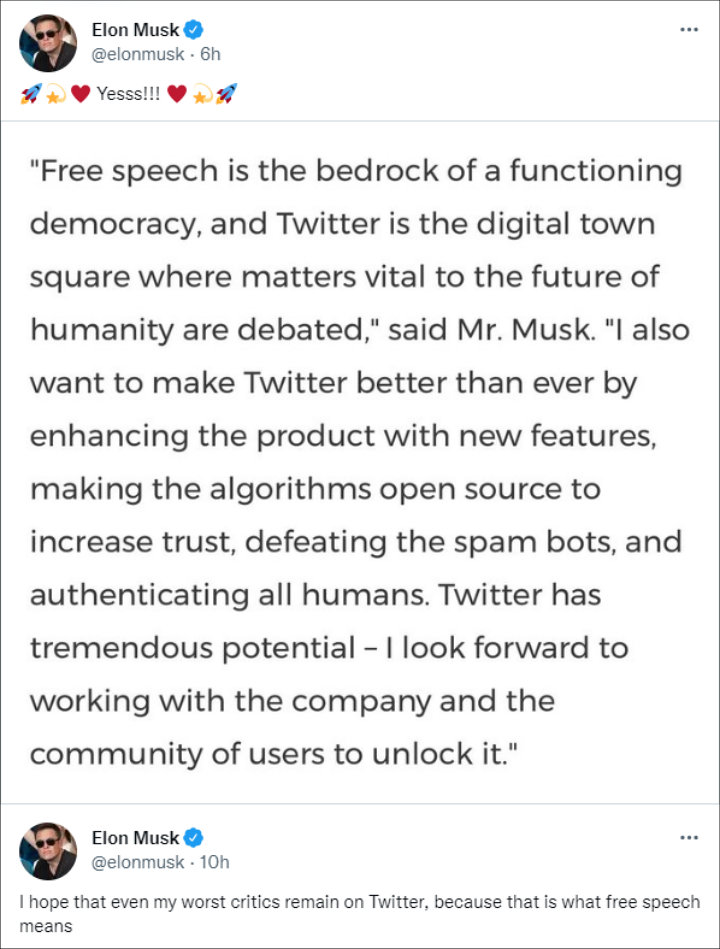 Elon Musk tweeted after buying Twitter for $44 billion.
The deal was met with various reactions. One supporter tweeted, "An African American owner of the largest social media company on Earth. This is historic." Another also has high hope as commenting, "One man can make a difference."
"This is going to be so interesting," a third added, while someone warned Elon, "I hope you won't become a platform for spreading misinformation as that's not what free speech means." Someone hopes Elon would become an ally to sex workers, writing, "free speech also means committing to not banning sex workers. your move, elon."
Another is seemingly worried that Elon would let Donald Trump return on Twitter. "are you putting the twice-impeached former president who incited a violent insurrection against the US Government back on twitter? and, if so, what responsibility will you bear for any & all repercussions?" the said user preemptively asked.
Some others criticized Elon's decision to buy the company, thinking that his money could be used for a greater good. "Of all the things you could do with your money, you chose this. Wow," one person tweeted.
Another claimed, "Elon Musk u buying Twitter is actually a m!splaced priority cos the world has more pressing issues at hand like World Hunger, unemployment, climate change etc. The $44 billion would've gone a long way if used in solving some of these global challenges; U are m!susing ur wealth."
Source: Read Full Article