The calendar may say winter is coming, but walking outside has proven she's basically already here, sis. And bitter at that. Transitioning from fall to winter will stop your inner fashionista from trying to be cute and reach for something warmer. But The Comfy's blanket sweatshirt (offers one-size-for-all) has arrived just in time as the combination of something cozy and cute. Because you know you don't really want to have to sacrifice fashion for warmth.
On those days you're freezing your butt off because your boiler coincidentally decided to clock out early this winter, you're usually shooting for that layering trend to keep your buns toasty. But giant blankets in the form of a sweater sort of replaces that whole process of piling all your thermals on top of one another.
Being a kid, you probably didn't appreciate the unboxing of thick socks and sweaters. But now that you're grown and may or may not have the luxury of a fireplace this winter, sweaters and socks are much more valuable than you once thought. Luckily, this blanket sweater is also reversable, so you can choose if you want to get comfy in velour on one side or seep into soft sherpa fleece. Either way, you should prepare to be swaddled like a baby.
The Original Comfy Blanket Sweatshirt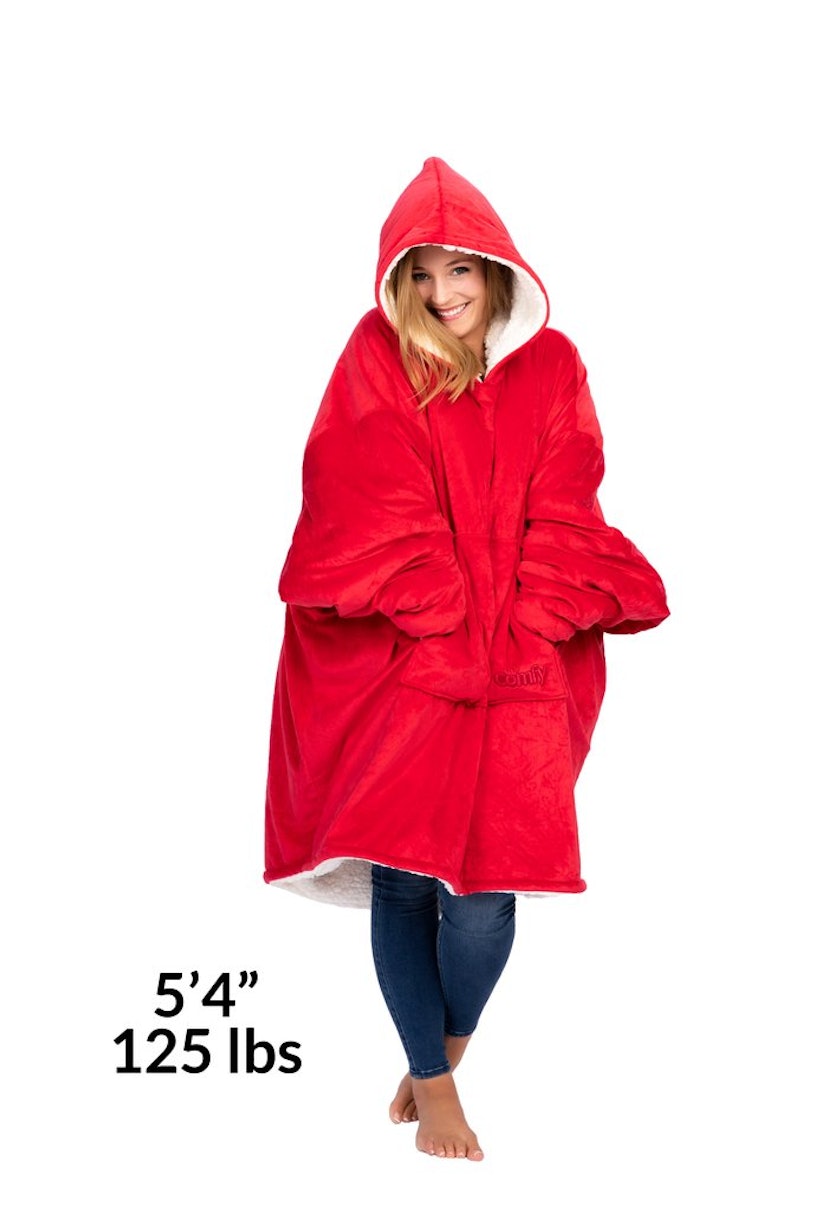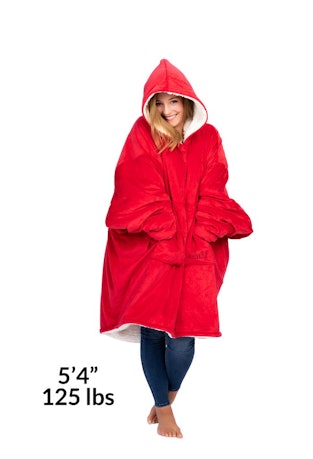 The Original Comfy
$39.99
The Comfy
The original comfy is a cozy blanket sweater that combines the warmth of a blanket and the ease and comfort of a sweater. It's a one size for all fit ranging from a small child to a fully grown 280-lb
While you may not be wearing this with your favorite pair of Chanel boots (although you totally could), it's best worn for chillier outdoor events when your coat doesn't suffice. Think about the next time you're taken to a sports event and you just need that one extra layer or when you're cuddled up with your cuff buddy and you need your hands to pour yourself another glass of red.
The gigantic blanket sweater also comes equipped with gigantic front pocket to fit all your snacks, gizmos, and according to a press release, even a small pet can snuggle its way into your cozy wear.
Don't think that these can't be personalized to your style though either, because they come in all different colors to match whatever mood your in. The blanket sweater comes in an assortment of gray, blue, pink, black, red, teal, burgundy, cream, and purple.
To keep you extra warm and away from the brittle air, The Comfy also offers a pair of Comfy Feet (offers women's S/M or 5-7 and M/L or 8-11).
The Comfy Feet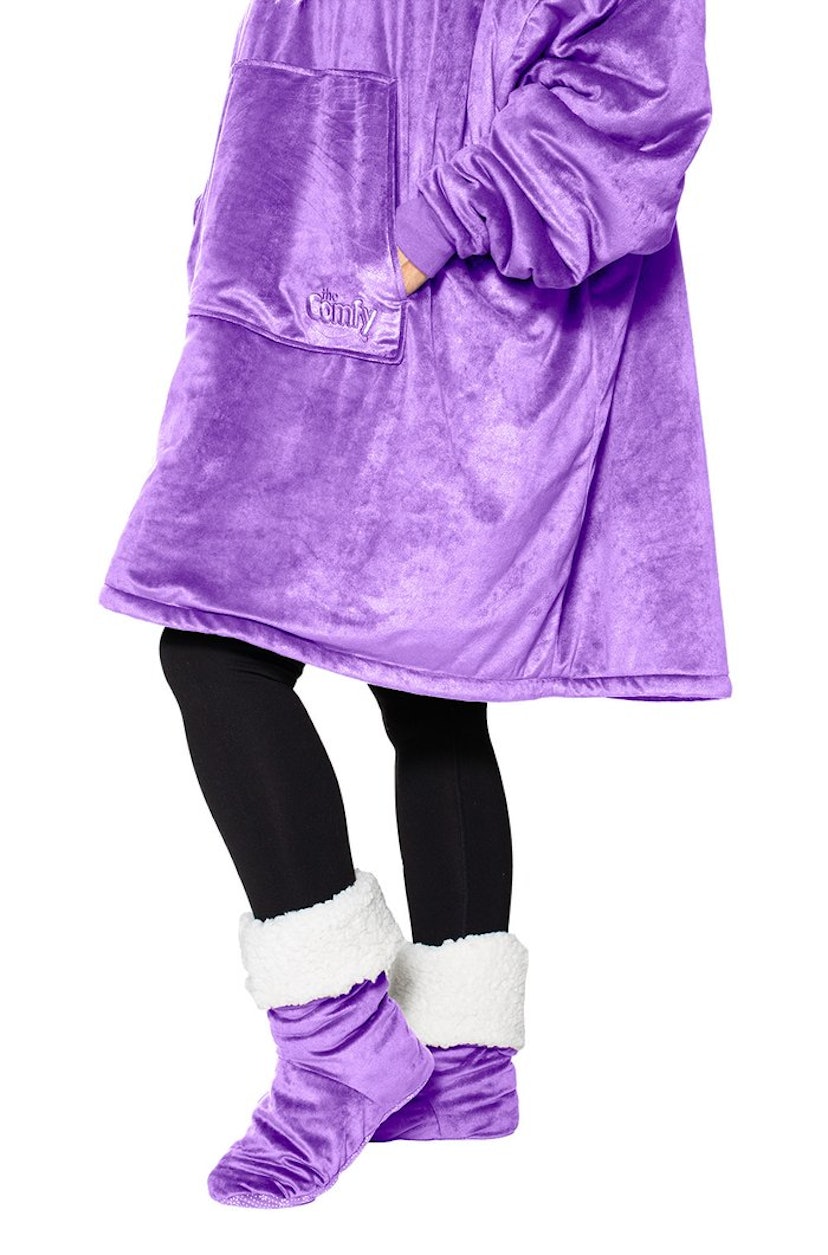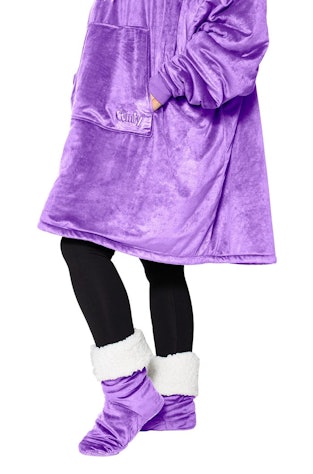 The Comfy Feet
$19.98
The Comfy
In the same color options as the blanket sweater, you can quit trying to stuff your feet under your shirt and throw on these fleece and velour textured booties for the winter. Not to mention, they'll have you gripped to the ground so you don't skid across the floor like Tom Cruise in Risky Business.
Even if you've failed at gift-giving in past years, this could be a gift that keeps on giving. The winter chills and the goosebumps that'll follow won't be going away any time soon. So get one for that friend who never thinks it's that cold out and maybe, like 5 more for yourself.
Source: Read Full Article